Revitalising a historic park for a climate-proof Bradford
Horton Park is one of the first public parks created in Bradford, England, originally opened in 1878. The large leafy park is registered under the Historic Buildings and Ancient Monuments Act 1953 within the Register of Historic Parks and Gardens by Historic England for its special historic interest. Located to the west side of the city between the communities of Great and Little Horton, the park hosts beautiful gardens, a modern play area, bowling greens, and more, providing locals with a green oasis amidst a heavily urbanised area close to Bradford City Centre.
Why Horton?
The communities of Horton are subject to serious levels of deprivation. Some of its neighbourhoods are within the 5% most deprived in England. Several generations of mass housing development have grown around the park, which was surrounded by open fields when it originally opened in the 19th century. Almost 150 years of Bradford's urban expansion has changed the character of the area. Modern interventions, of schools, mosques and doctor's surgeries added into the neighbourhood fabric. The park now has 15% tree cover, but has become a green island surrounded by urban sprawl.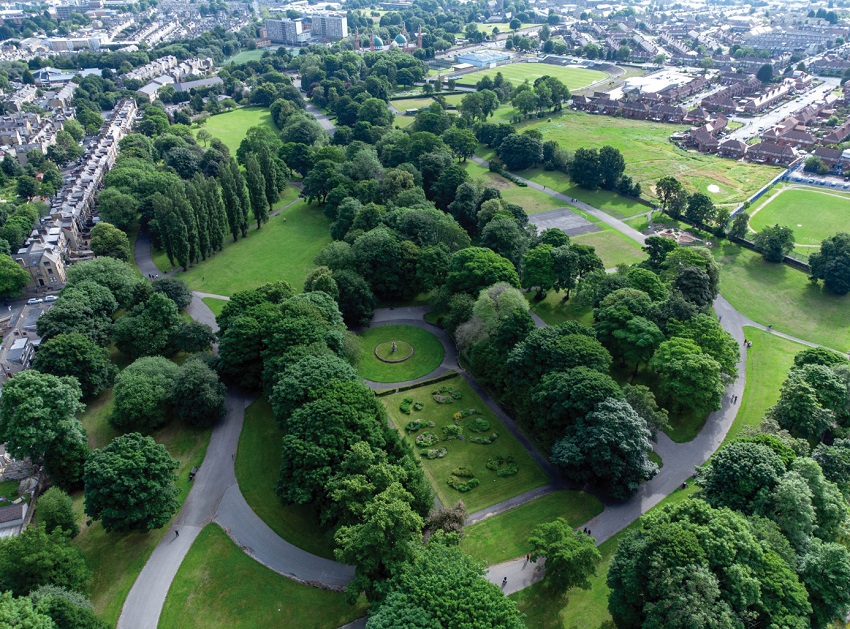 Statistics from Bradford Metropolitan District Council shows that 14.1% of homes in the Little Horton area beside Horton Park are overcrowded – higher than the District average. Life expectancy for both men and women living in communities around Horton Park are lower than the District averages (https://ubd.bradford.gov.uk/district-profiles/ward-profiles-2021/). The communities of Great and Little Horton stand to gain many health benefits from climate adaptive measures, making Horton Park an ideal place to target LIFE CRITICAL's work. 
The LIFE CRITICAL Approach
LIFE CRITICAL uses nature based landscape design solutions to adapt older city neighbourhoods so that they are equipped for the effects of climate change. It achieves this by working together with the local community, which supports in monitoring the changes to temperature, air quality, wildlife, and plants. Bradford Council's Landscape, Design and Conservation Team are working in partnership with a team from Dordrecht in the Netherlands who designed WielwijkPark, which, like Horton Park, is an urban park and neighbourhood.
Through LIFE CRITICAL, Bradford is working to transform Horton Park into a climate change resistant hub of biodiversity. Together with schools and community groups, they are reshaping the natural landscape and analysing progress by monitoring the park's climate indicators.
Bradford Council is working with the University of Bradford and Bradford Institute for Health Research's Born in Bradford project. The former will focus on monitoring technologies and finding ways to engage the community through the park's history. Meanwhile, the latter will research local attitudes towards the park and their perceptions on the importance of recreation in wellbeing.
Horton Park's Future
LIFE CRITICAL will reduce flooding and heat damage in Horton Park and enhance the area for the local community. Saira Ali, team leader of the Council's landscape, design and conservation team, adds: "The project aims to enhance the attractiveness of Horton Park as well as improving the local community's quality of life."
More detailed results of the project will include:
Increased social cohesion at the demonstration locations
Innovative monitoring setup demonstrated
Monitored results on the effects and impact of the implemented climate adaptation measures
Disseminated project results and outcomes among stakeholders, target groups and the general public
Interest created in implementing the demonstrated participatory approaches and measures in other cities
Demonstrated reproducibility and transferability
Increase awareness of climate adaptation in general and the potential of adapting existing green infrastructure to climate adaptive infrastructure, in particular among target groups and stakeholders